Summer Wardrobe Essentials
June 23 2023 – Staff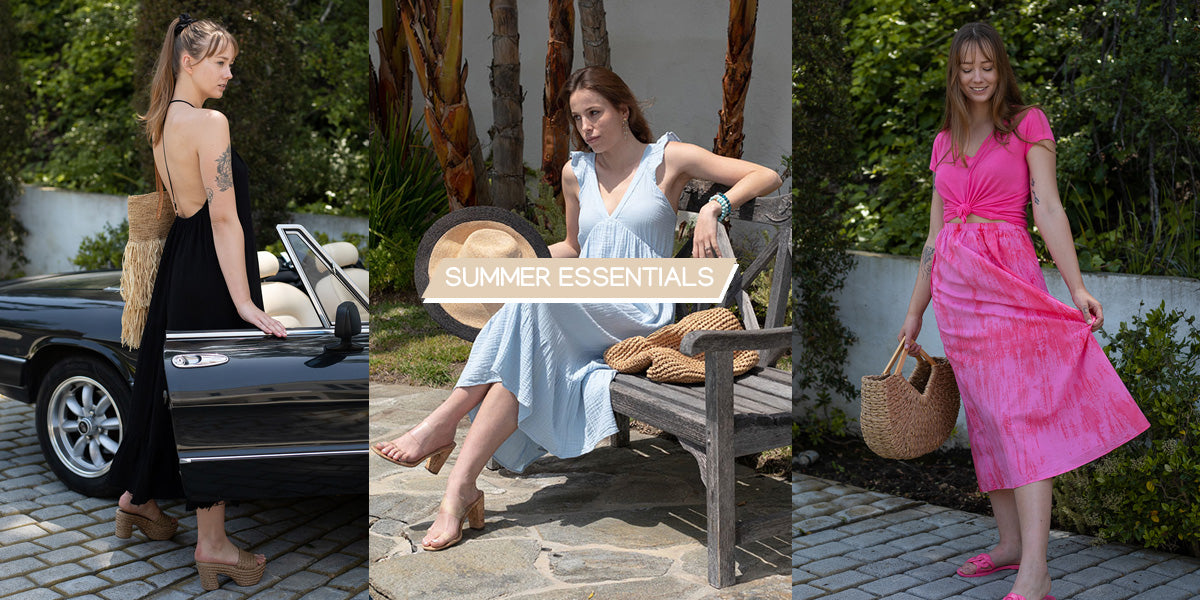 Summer has arrived! Whether you're spending a day at the beach, running errands, headed to the office, planning a date or vacationing on an island, we've assembled a handful of summer essentials to keep you cool for the next few months.
Let's start with the elevated basics. While most t-shirts are made of cotton or a cotton/polyester blend, the STARKx N.Y. V-Neck and L.A. Crew tees are made of natural linen. This premium linen fabric is soft, comfortable and breathable. These ultra luxe tees are available in multiple colors, making them easy to mix-and-match under a dressed up linen blazer or paired down with shorts or jeans. 
We like to incorporate a lightweight skirt and pair of pants into our summer rotation. The Ruffle Skirt, Linen Wide Leg Pants, Pocket Linen Pants and our favorite Side Slit Pants are available in multiple colors. Although we do love a bright hue for summer months, neutrals (i.e. black, white, navy, ecru) are extremely versatile and coordinate well with any color or print.
Our top pick for a fun, casual, beachy summer dress is the Halter Dress, available in white, navy, black, and black tie-dye. With its T-string baring back, it is a bold and daring piece. If you're looking to cover up a bit, we would toss on a light jacket. The Linen Blazer would be a suitable option (pun intended!).
The Fufu Dress is another easy-to-wear summer essential. This dress features ruffled sleeves, which are not only cute, but are designed to create a flattering, slimming effect on the arms.
If you haven't already, check out our other blog posts on Summer Wedding Guest Styles and Saint Barth Style Tips.
View the full Summer '23 Collection for additional warm-weather friendly styles, including an assortment of tops, shorts, skirts, dresses, pants and jackets.
STARKx is a premium fashion brand specializing in beachside elegant apparel for women.
Each piece is made locally (in Los Angeles) with exquisite care, using quality, ultra-soft fabrics and rich garment dye processes. Cleverly designed details combine to create forgiving and flattering silhouettes for effortless, sophisticated style.
Designed by Perry Stark